Virtual Christmas Concert 2020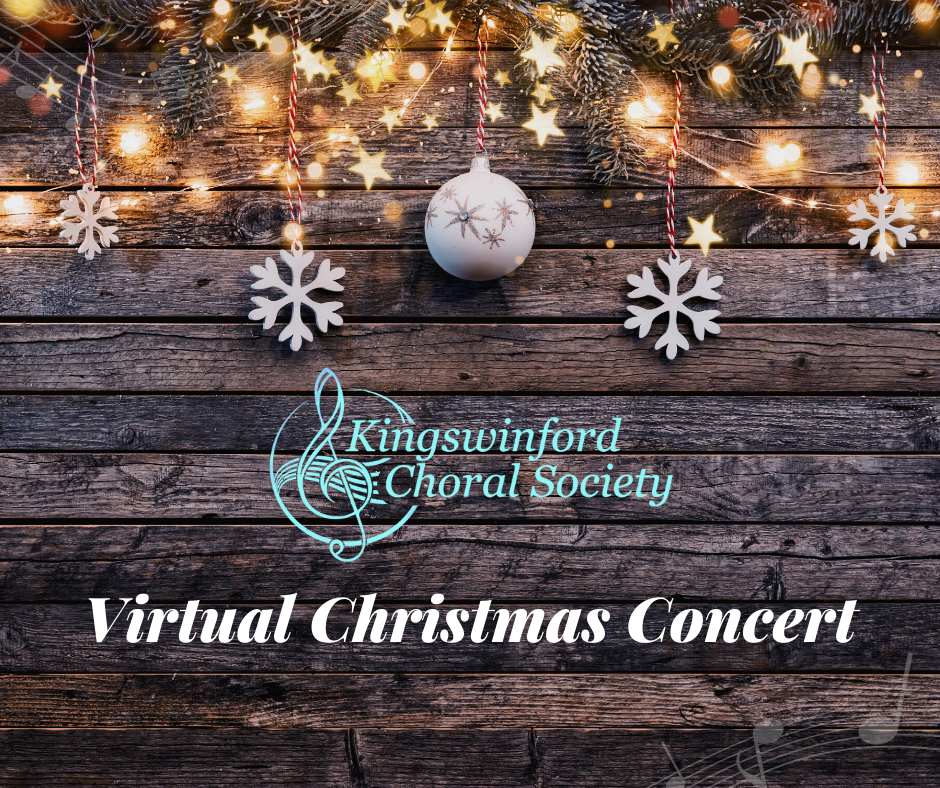 Kingswinford Choral Society are thrilled to present to you our first ever virtual concert, Music and Readings for Christmas! To listen to the concert, simply click on the play button below. We hope you enjoy listening to the concert as much as we've enjoyed creating it for you.
The concert has been made possible through months of rehearsal and recording, with backing tracks recorded at Central Methodist Church adhering to social distancing regulations back in October and choir members singing their parts in their own homes. Thank you to everyone who gave their time to make this possible! We'd also like to give a huge thanks to Stephen Butler for all his hard work editing the tracks together to create the final concert.
We're hoping that this concert will help to raise much-needed funds for local charity Action Heart during this difficult year. If you're able to support them with a donation you can do so at our JustGiving page here: https://www.justgiving.com/fundraising/kingswinford-choral-society-christmas-concert-2020
You'll find the concert programme below, along with the lyrics to the carols if you wish to sing along. We heartily recommend it!
On behalf of the Kingswinford Choral Society, we wish you love, joy and peace for Christmas and hope for the new year. We hope to be able to sing for you again in person soon!
Programme
WELCOME: Andrew Biggs, Musical Director of Kingswinford Choral Society
CAROL: O Come, All Ye Faithful
READING: Christmas by John Betjeman, read by Emma McNally
CHOIR: Christmas Lullaby (John Rutter)
CAROL: O Little Town of Bethlehem
READING: The Birth of Jesus, read by Alison Orton
CHOIR: O Holy Night (Adolphe Adam), soloist: Sarah Fellows
READING: Shepherds Visit Bethlehem, read by Tim Knight
CHOIR: Do You Hear What I Hear? (arr. Harry Simeone)
APPEAL: Russell Tipson, Director of Action Heart
SOLO: The Christmas Song (Robert Wells/Mel Tormé), soloist: Annie Hodkinson
READING: The Visit of Father Christmas by Gervase Phinn, read by Gareth Priest
SOLO: Have Yourself A Merry Little Christmas (Hugh Martin/Ralph Blane), soloist: Laura Wright
DUET: The Perfect Year (Andrew Lloyd-Webber), soloists: Catherine Hollies and Michael Reynolds
CAROL: Hark! The Herald Angels Sing
SOLO: I Wish You Christmas (John Rutter), soloist: Sarah Fellows
O Come All Ye Faithful
O come, all ye faithful, joyful and triumphant,
O come ye, o come ye to Bethlehem,
Come and behold him, born the king of angels
O come, let us adore him,
O come, let us adore him,
O come, let us adore him, Christ the Lord.
See how the shepherds summoned to his cradle,
Leaving their flocks draw nigh with lowly fear,
We too with thither bend our joyful footsteps
O come, let us adore him,
O come, let us adore him,
O come, let us adore him, Christ the Lord.
Sing, choirs of angels, sing in exultation,
Sing all ye citizens of heaven above,
Glory to god, in the highest
O come, let us adore him,
O come, let us adore him,
O come, let us adore him, Christ the Lord.
O Little Town of Bethlehem
O little town of Bethlehem, how still we see thee lie,
Above thy deep and dreamless sleep the silent stars go by.
Yet in the dark streets shineth the everlasting light,
The hopes and fears of all the years are met in thee tonight.
How silently, how silently the wondrous gift is given,
So God imparts to human hearts the blessings of his heaven.
No ear may hear his coming, but in this world of sin,
Where meek souls will receive him, still the dear Christ enters in.
O holy child of Bethlehem, descend to us we pray.
Cast out our sin and enter in, be born in us today.
We hear the Christmas angels the great glad tidings tell,
O, come to us, abide with us, our Lord, Emmanuel.
Hark, the Herald Angels Sing
Hark, the herald angels sing, glory to the newborn king,
Peace on Earth and mercy mild, God and sinners reconciled.
Joyful, all ye nations rise, join the triumph of the skies,
With the angelic host proclaim, Christ is born in Bethlehem,
Hark, the herald angels sing, glory to the newborn king.
Christ by highest heaven adored, Christ the everlasting lord,
Late in time, behold him come, offspring of a virgin's womb,
Veiled in flesh, the Godhead see, hail the incarnate deity,
Pleased as man with man to dwell, Jesus our Emmanuel,
Hark, the herald angels sing, glory to the newborn king.
Hail the heaven born prince of peace, hail the son of righteousness,
Light and life to all he brings, risen with healing in his wings.
Mild he lays his glory by, born that man no more may die,
Born to raise the sons of Earth, born to give them second birth,
Hark, the herald angels sing, glory to the newborn king.
Anyone wishing to make a donation by cheque instead can make them payable to Action Heart and post them to:
ACTION HEART
(Virtual Carol Service)
5 Baird House
Dudley Innovation Centre
Kingswinford
DY6 7YA
The Kingswinford Choral Society and Action Heart both thank you for supporting this amazing local charity.